Sustainable Development Across Borders: New Frontiers in International law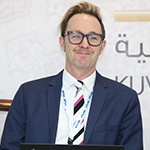 Dr. Ralph Wilde
Associate Professor – University College London – University of London

Abstract
What is the value of ideas of international law have for sustainable development, as far as cross-border obligations of the globally privileged towards those less fortunate are concerned? This question is not new, but recently a new aspect to it has emerged: What contribution might international human rights law make, on the basis of an "extraterritorial" orientation, including the 'right to development', as far as state obligations are concerned?  Such an enquiry has been foregrounded by a major international initiative by experts and activists: The 2011 Maastricht Principles on the Extraterritorial Obligations of States in the Area of Economic, Social and Cultural Rights.
The present chapter offers a critical evaluation of this enquiry, using the Principles and its associated Commentary as a case study, situating them within more long-standing initiatives such as the 'Right to Development'. This case study is used because on the fundamental bases for obligation—conceptions of "power" and "cooperation" that will be reviewed herein—the Principles and the Commentary reflect how many international legal experts view the general contours of the law in this area.
The documents thus offer a certain way to make the case for invoking international law as a means of combating global poverty and economic inequality across borders. In engaging this critical appraisal, I adopt the method of "immanent critique," assessing the merits of the substance of the legal requirements according to the claims made about the law by the proponents of it. I do this because such claims reflect how many in the field of international public policy view the value of the legal framework.
Keywords: sustainable development; extraterritoriality; economic rights; right to development; international law; human rights law.
CV / Resume
Dr. Ralph Wilde
Member of the Law Faculty, University College London, University of London
Dr Ralph Wilde is a member of the Faculty of Laws at University College London. He writes and teaches on international law and politics, adopting cross-disciplinary methodologies. His previous work focused on the concept of trusteeship over people in international law and public policy, addressing colonialism, belligerent occupation and international territorial administration.
His book on that topic, International Territorial Administration: How Trusteeship and the Civilizing Mission Never Went Away (Oxford University Press, 2008) was awarded the Certificate of Merit (book prize) of the American Society of International Law in 2009.  His current project, 'human rights beyond borders', is on the extraterritorial application of international human rights law.  It is funded by the award of a Frontier Research Grant (in the 'Consolidator' category) by the European Research Council.
Ralph is a member of the International Law Association (ILA) International Committee on Human Rights in Times of Emergency, and previously served on Executive Board of the European Society of International Law, the Executive Council of the American Society of International Law and, at the ILA, as Co-Rapporteur of the Human Rights Committee, one of the UK representatives on the international Executive Council, Rapporteur of the Study Group on UN Reform, and Joint Honorary Secretary of the British Branch.  In 2010 the UK Leverhulme Trust awarded Ralph a Philip Leverhulme Prize, which is given to UK-based academics under 40 who are judged to be 'outstanding scholars who have made a substantial and recognized contribution to their particular field of study, recognized at an international level'.  More information: https://www.ucl.ac.uk/laws/people/dr-ralph-wilde